The Good Wolf
For Best Production -the show takes its audience on a deep emotional journey, on a tightrope between reality and imagination. All the elements of the show coalesce into oneunique and exciting work.
The director's award to Sarel Peterman – Sarelmasterfully blended all the elements of the show, Through his guidance of the actors Sarel cleverly combines all the elements into a dramatic and exciting world and the result is precise and sensitive.
The movement design award for Talia Landa and Yaniv Avraham – They create a unique, impressive and invested language of movement. The design of the wolf character is unusual and the movement sections are an essential part of the show and manage to tell the storywithout any need of words.
The Video Art Award to Sivan Pressler and Nitai Shalem - the video design is a significant layer in the creation of the world in which the show takes place, using cinematic techniques. It creates drama, transition of time and place and reveals to us about the emotional world of the characters.
Special Commendation to the actor Michael Peled in the role of the wolf
---
Two on the same roof
Assitej 2019 - best price for
Interdisciplinary play.
Co-production with Elmina Theatre.
---
Gimpel The Fool
Best Actor ALBOMONO Festival in Albania June 2019-Howard Rypp
---
One Voice
ASSITEJ 2017 Best play and Best production for Youth
---
Mr Green & Me
Best Actor ASSITEJ prize 2016-Albert Cohen
---
My First Kiss
Haifa Youth Theatre Festival 2016:
Best Production for Youth
Best Director
Best Music
Best Chorieography
---
My Grandfather The General
Haifa Youth Theatre Festival 2016::
Best Actor
---
Regarding the Bird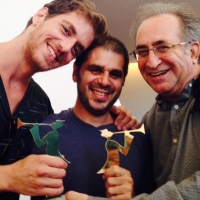 Shlomi Bertonov Best Actor ASSITEJ Prize 2015
Nitzan Cohen Best Play ASSITEJ Prize 2015
---
Cat man with long Hair
Eli Ashkenazi Best Lighting designer Festival Haifa 2014
---
Gimpel the Fool
Grand Prize, International MonoDrama Festival Bitola Macedonia 2013
Best of the Fest, Wnnipeg Fringe Festival 2010
---
Neighbors
Haifa International Children's Festival:
Best Production
Best Playwright- Roy Segev, Yuval Cohen and Amnon Wolf
Best Direction- Roy Segev
Best Music- Yuval Mesner
Best Costumes- Merav Danon
Best Actor- Yuval Cohen
------------------------------------------------------------------------------
Best Ensemble Acting Prize 2016 Naj Naj Festivel - Croatia
---
Hana's Suitcase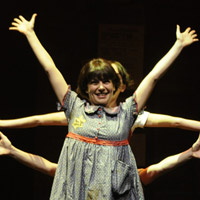 Best Multi-Disciplinary Production, ASSITEJ Prize, 2011
---
Out of Egypt
Honorable Mentional to Osnat Zibil, Teatroneto, 2010
----------------------------------------------------------------------
Theipis - Monodrama Festival Germany 2018
---
Dor 3.5
Best Actress- Ruth Geller, ASSITEJ Prize, 2010
---
Cost of Living
Best Actor- Lavie Zitner, ASSITEJ Prize, 2009
---
The Golem
Honorable Mention to Actor, Iran Sarel, Haifa International Children's Theatre Festival, 2009
---
I Will Overcome
Best Actress- Stav Adisis, ASSITEJ Prize, 2008
---
King of the Mountain
Most Promising Actor, Haifa, Roy Assaf, ASSITEJ Prize, 2006
---
One of a Kind
ASSITEJ Prizes 2006:
Best Play- Yossi Vassa and Shai Ben Attar
Best Production
Best Design- Sasha Lesansky
Most Promising Actor- Roy Assaf
Haifa International Children's Festival, 2005:
Best Production
Best Director- Shai Ben Attar
Most Popular Play
Best Actor- Shai Ferdo
Best Actress- Tehitina Assefa
---
Poem Factory
Haifa International Children's Festival, 2006:
Best Actor- Efron Etkin
Most Popular Production
---